Jake Poore is the President and Chief Experience Officer of Integrated Loyalty Systems (ILS), a company he founded in 2001 dedicated to elevating the human side of healthcare.










0
+
Cultural Transformations
Jake Poore is a master storyteller, and our audiences LOVE his high-energy, never-boring style. A consistently top-rated ACHE speaker and presenter, Jake gives his audiences specific tools they can begin using right away. Book Jake to speak and make your next meeting or event the best ever.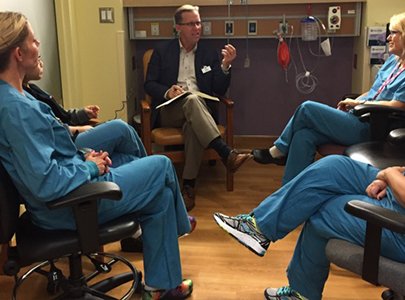 CULTURAL TRANSFORMATION CONSULTING
Healthcare systems large and small trust Jake Poore and the Integrated Loyalty System's (ILS) team team to strategically and meaningfully improve the patient experience. Our experts teach you how to hardwire healing and human kindness into every aspect of your organizational DNA with a built-in continuous improvement process to keep you on track and sustain your gains long after we're gone.
PUBLICATIONS
Jake's popular blog and his forthcoming book, "99 Lessons Learned at Disney to Improve the Patient Experience" shine a light on his 30+ years of perfecting the art of service excellence. His unique storytelling captivates readers and clearly illustrates how the top service excellence strategies from a variety of industries can be seamlessly adopted and adapted to healthcare.